Today was Carter's second birthday. We received a number of lovely well wishes for today from family and friends and for that we're all very grateful. We had a quiet day. I spoke at the API Meeting this morning on the book Connection Parenting by Pam Leo. It's a wonderful book and it was a pleasure sharing the information with other moms.

We came home from the meeting and Carter napped, or maybe he didn't, I'm not sure as I took a nap and left it to Andrew.

We ate chicken tacos for dinner (one of Carter's favorites), then opened presents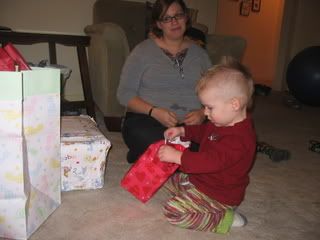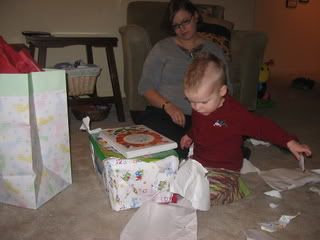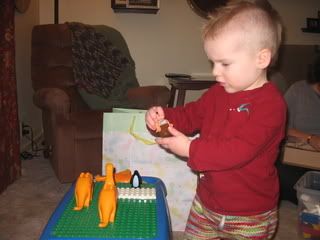 (Legos, a book, a skid steer loader, an annoying guitar and money)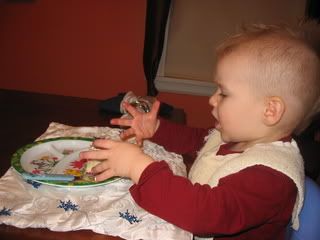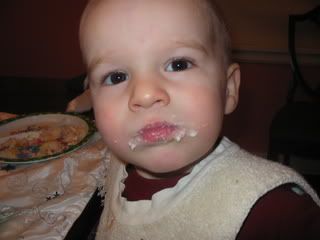 then ate cake (dot cake with dot frosting, of course).

Now he's jacked up on sugar and not wanting to go to sleep. He's definitely a toddler through and through. Who else would wear a get-up like this?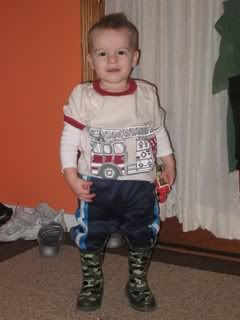 Lastly I'd like to give myself a pat on the back. Today is not only Carter's birthday, but it also marks our two year anniversary of breastfeeding. So few woman make it to this point that no one even keeps statistics on it, but only 17% of women make it to one year so I think it's safe to assume that far fewer than that make it to two years (although in my group of friends I'm pretty sure the rate is something around 90%, lol). I'm so happy to have been able to give him this gift. I'm pretty sure he'll be done soon. There's not much milk left with me being 22 weeks pregnant now and he's taken to calling it "yucky milk" even though he still asks for it it.

Lastly, a few of the things Carter can do.
-He can name the following tractors by site: wheel loader, skid steer loader, excavator (pronounced 'ekcabator'), pipelayer and tractor (used to refer to track-type tractors)
-Name any number of animals including many beyond the barnyard (like giraffe, penguin and whale).
-Put his rainboots on by himself.
-Put Georgia's shoes on for her.
-Climb over a standard compression gate.
-Name his friends and have imaginary phone conversations with them.
-Repeat just about anything we say (unfortunately).
-Engage in imaginary play (Buzz Lightyear and his sock monkeys will all take naps, eat, jump, etc.)
-Walk the dog. Not alone, but if we walk the dog then Carter needs to be the one holding the leash. They do pretty well together.

He cannot name letters, numbers, color or shapes. Mostly because we haven't even begun to bother to teach him these things.

He likes to watch Sesame Street (the only kid show he's allowed to watch, and then rarely), Ask This Old House and hockey. His favorite movie is Toy Story (again the only one he's really seen, mostly because when we tried to watch Finding Nemo he kept asking for Buzz).

He loves to help with chores and will vacuum using the DustBuster, sweep, wipe windows, rake, shovel snow and fold laundry without being asked.

He likes to play with dinosaurs, blocks, cars and trucks and monkeys.

His favorite foods are vanilla yogurt and tomatoes.

Okay, I think that's enough of that. Carter and I will be enjoying a few more days at home and then we'll be heading to Las Vegas to visit Meghan and her boys, Noah and Xander, next Thursday. Booking tickets was spur of the moment, but we have been planning the trip for some time. We'll be in Vegas for a week before returning home.