We survived our trip to Vegas. It was quite a bit of fun. Highlight: Peoria TSA let me through with undeclared liquids and gels that I forgot about. Way to keep America safe!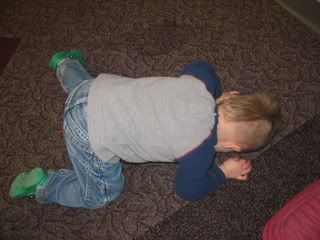 The trip started with Carter having a fit in the airport because I wouldn't let him run down the jet way. I had to wake him up early to get to the airport on time.

We had a HORRIBLE crisis getting on the plane because our carseat (a might fine, and expensive, Britax Marathon, didn't have a sticker on it for use on an airplane. It's in the manual, but that wasn't good enough. The flight attendant (FA) searched for it, but couldn't find it. In the mean time we're in the front of the plane, blocking the other 100 passengers that want to get on. Carter is running up and down the aisles because I'm trying to help the FA and things are looking dim. My pregnant hormones take hold of me and I burst into hysterics over not being able to use it and continue to cry, make-up streaming down my face for the next 15 minutes while they look and talk. In the mean time, Carter sees me crying and bursts into tears. Now we're both crying, everyone hates us for blocking the aisle and I still can't use my seat.

We sit, Carter freaks when I put the seatbelt on him. He figures out how to undo it in about 27 seconds and we have a mommy/toddler struggle for the next 20 minutes. Once we're moving he's a bit better and when we can finally use electronic devices he's happy to watch Buzz and play with tape.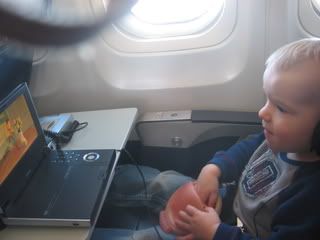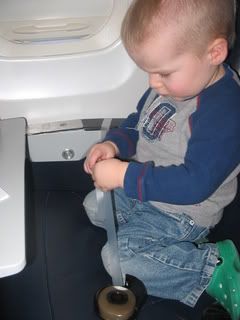 Britax customer service is closed by the time I can call them, so it must wait until Friday.

In the meantime, Carter plays with Noah and Xander and I catch up with Meghan Dianne.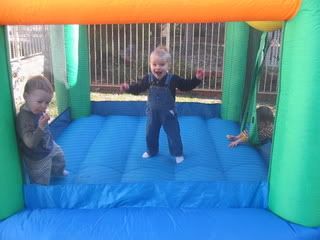 On Friday I call Britax again and talk to someone named Heather Mangin. DO NOT TALK TO HER! She makes me take pictures of my seat after telling me where the sticker should be (it isn't there). I'm to email her the pictures of the seat and she'll call me back. I email, she doesn't call. I call, she says she didn't receive pictures b/c their email can only handle small files. I email a smaller file, no call back and THEY CLOSE for the weekend! I'm furious and a total basket case over this. She calls and leaves a message saying they'll send the sticker if I leave a message with my address. I leave her no less than three messages with my address and instructions to call me ASAP with how it's being sent since the PO is closed for MLKJ Day.

Saturday we hang out and at night Meghan Dianne and I go to see The Business of Being Born. Meghan Dianne hasn't seen it, but I have. It was just as good the second time. Meghan's husband watches the three boys, who manage to poop a total of 6 times, including one diarrhea poop by my boy, but has no wipes by the end and freaks out on us to get home.

Sunday we go hiking at Red Rock Canyon. It was SO much fun. Carter loved it, hiking the whole 1.25 miles and I thought it was great too. Noah and Xander really liked it too and did great (they're a few months younger than Carter). My camera died when we got there so these are camera phone pictures.



Standing under a very large rock.



At a waterfall we hiked too. It was half ice, half running water.

Monday an awful day was had by all. Meghan Dianne had a bad day at Urgent Care and I had more Britax troubles, sort of. By noon stupid Heather Mangin of Britax hasn't called me back so I call her. She's like, "Oh yeah, I sent it overnight express with UPS today." I get flustered that she didn't call me and forget to ask for a tracking number. She doesn't offer it. We try to go to the fancy pants mall at night, but Carter has a toddler freak out and ruins our fun. No money spent except for dinner :( Carter and I did manage to contract syphilis from this picture though.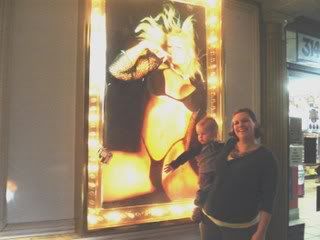 Tuesday Meghan Dianne, Noah, Xander, Carter and I went to the strip. We walked around Caeser's Palace and saw the show at the Bellagio. Carter liked the ducks better than the water show.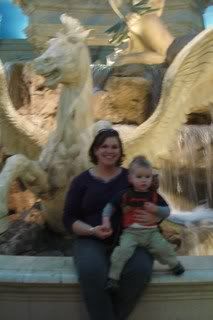 He also did some gambling.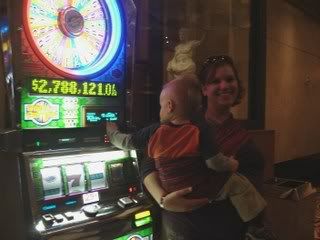 When we were on our way home I realized that I didn't check for the Britax sticker before we left and that their customer service was closed. It hadn't appeared as promised that day. FUCK! I called UPS and found out it would have been delivered by 1030am if it was coming at all and no driver tried to deliver to our house. Without the tracking number I couldn't do anything. I call and leave a message for evil Heather Mangin saying she lied and I had no sticker and that I needed the tracking number and that she should call me as soon as she got in to the office in the morning.

Wednesday morning she doesn't call. Carter had gone to bed sick and woke up sick. I call and she's all like "oh, I didn't know what time you left so I didn't bother calling." I get the tracking number and check it while she's on the phone with me. It will arrive by 1030am that morning. The sticker comes, it is HUGE. Way to treat me like I'm retarded Britax, there's no way I could miss that.

We have a relaxing afternoon and Meghan Dianne drops us off at the airport. We get through security fine and I let my son eat Burger King french fries.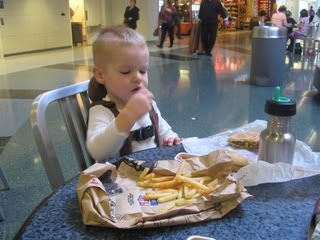 We get stuck talking to a very un-AP family while waiting to board. We can use the carseat (we get the SAME flight crew!) and Carter does much better in the seat.